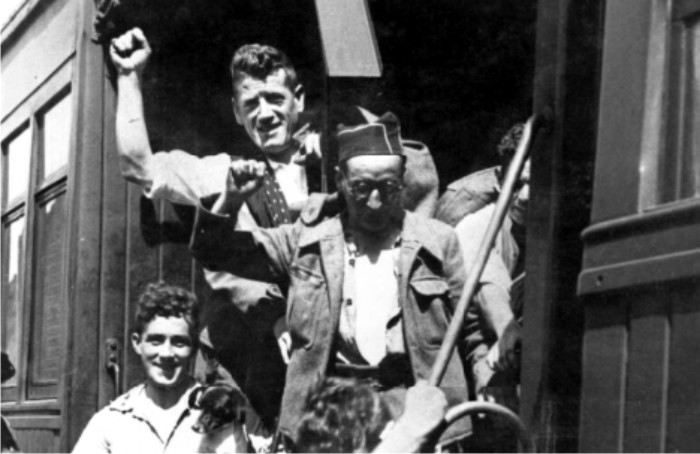 (Viene de la primera parte)
En enero de 1937, el Gobierno británico prohibió el reclutamiento de voluntarios. Para ello recurrió a la Foreign Enlistment Act (1870), una norma antigua que vetaba el alistamiento de hombres en los ejércitos de cualquier estado que estuviese en guerra con otros pero en paz con Reino Unido. El flujo de hombres se redujo y las autoridades empezaron a vigilarlos de cerca. No siempre podían (o querían) impedir su salida, pero sí espiar sus movimientos, como demuestran los archivos de la guerra que el servicio de inteligencia británico desclasificó en 2011. El MI5 vigiló a cuatro mil británicos, la mayoría comunistas, que habían ido a España «o era probable que lo hiciesen». En la lista aparecen brigadistas, reporteros, intelectuales y médicos.
En febrero llegó la prueba de fuego de las Brigadas. El día 6, los nacionales lanzaron una ofensiva para aislar Madrid, intentando cortar las carreteras que unían la capital con Barcelona y Valencia, donde se había instalado el Gobierno. Los combates duraron tres semanas y los republicanos frustraron el intento de los sublevados. En total, más de quince mil hombres murieron. Junto a los españoles de ambos bandos lucharon aviones de bombardeo y carros de combate alemanes y rusos, caballería marroquí y cuatro de las cinco Brigadas Internacionales. José Miaja comandó la defensa republicana. Después de la batalla, unos y otros se afanaron en fortificar sus posiciones; empezaba el largo asedio de Madrid.
El batallón británico entró en acción el 12 de febrero en el valle del Jarama. Había hombres experimentados, pero también muchos «chicos de ciudad que no tenían ni idea de cómo cubrirse en una colina y sin habilidad como tiradores», reconocía Jason Gurney. El joven escultor inglés recibió un disparo en la mano derecha y tuvo que abandonar su profesión. Una bala explosiva le abrió «un agujero lo suficientemente grande como para poner un huevo de gallina», escribió en sus memorias (Crusade in Spain, 1973). Gurney vivió para contarlo, pero unos cuatrocientos de los seiscientos que componían el batallón británico en aquel momento murieron o resultaron heridos el primer día. Pese al desastre inicial, los batallones dirigidos por el general soviético Dmitri Pávlov lograrían frenar el avance de los nacionales hacia Morata de Tajuña. La cota de El Pingarrón fue rebautizada por los ingleses como Suicide Hill.
Los brigadistas recibieron otro gran golpe al día siguiente: treinta ametralladores fueron capturados por el ejército marroquí, que los engañó cantando La Internacional. Tres fueron ejecutados y el resto fueron enviados a una prisión improvisada en una fábrica en Talavera de la Reina. «Los británicos tuvieron suerte, a otros prisioneros les disparaban a diario […]. Después de tres meses los enviaron a Salamanca, celebraron un juicio y los declararon culpables de «colaborar con la rebelión». Cinco fueron sentenciados a muerte y otros a veinte años. Por suerte, en mayo de 1937 fueron intercambiados por prisioneros italianos, pero no antes de desfilar y ser humillados por una multitud de partidarios fascistas en la frontera francesa», recordaba en 2013 la nieta de Archibald Campbell, uno de los presos. Su abuelo regresó a Londres, donde su mujer lo esperaba con la niña que había dado a luz mientras él estaba en prisión. Lo había dado por muerto y la llamó Rosemary Nina (por niña en español). El servicio de inteligencia lo vigiló el resto de su vida. «Tenía el teléfono pinchado y le revisaban el correo. También entraron en su piso y le robaron el diario que había escrito. Hace poco recibí una copia de su ficha en el MI5. Incluía una transcripción del interrogatorio que le hicieron los fascistas mientras estuvo encarcelado en España».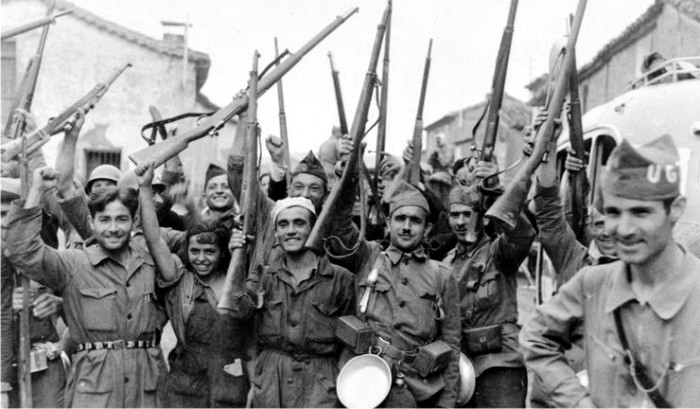 El batallón resistió en el frente hasta que los nacionales fracasaron en su intento, aunque habían logrado atravesar el río y ganar algo de terreno. Pero la batalla del Jarama rompió las costuras de las Brigadas y puso al descubierto los defectos de su «romanticismo bélico». Las numerosas pérdidas y la falta de organización —habían llegado al frente con varios días de retraso— minaron la moral de los voluntarios. Tras la carnicería, los supervivientes del batallón hicieron guardia en el frente durante cuatro meses, más de cien días de vacío que terminaron de consumir los nervios de los brigadistas. Ante la falta de unas condiciones de servicio «oficiales» algunos empezaron a desertar. Unos trescientos británicos lo hicieron a lo largo de la guerra. En teoría, la obligación de permanecer en España era moral, no militar, pero algunos acabaron detenidos en prisiones republicanas o esperando una repatriación que nunca llegaba. En cualquier caso era un problema: si el aparato comunista o el Gobierno republicano los retenían contra su voluntad, volverían a Reino Unido criticando la «traición» de sus camaradas. Era importante que los brigadistas regresasen a casa con el relato adecuado de los acontecimientos.
Fue durante aquellos meses cuando uno de los comisarios políticos, el escocés Alex McDade, compuso la canción más célebre de la XV Brigada. En los años siguientes surgieron distintas versiones en los batallones británico y americano, pero siempre sobre la melodía de «Red River Valley». La primera de ellas empezaba así:
There's a valley in Spain called Jarama,
That's a place that we all know so well,
for 'tis there that we wasted our manhood,
and most of our old age as well.
En otras versiones, wasted our manhood («desperdiciamos nuestra hombría») sería sustituido por gave («entregamos»), o incluso por where we fought against the Fascism («donde luchamos contra el fascismo»). La batalla también aparecía en «Viva la Quince Brigada», una adaptación de la tradicional «¡Ay, Carmela!», compuesta un siglo atrás, durante la Guerra de la Independencia contra los franceses. Al principio se tituló «Viva la Quinta Brigada» porque, efectivamente, era la quinta Brigada Internacional, pero la decimoquinta del Ejército republicano. También se escribieron varias letras distintas.
Viva la Quinta Brigada,
rumba la rumba la rumba la
que se ha cubierto de gloria, 
[…]

En el frente de Jarama,
rumba la rumba la rumba la
no tenemos ni aviones, ni tanques, ni cañones,
¡Ay Carmela! ¡Ay Carmela!
no tenemos ni aviones, ni tanques, ni cañones. 
Existe una canción actual del músico de folk Christy Moore, basada en la experiencia del brigadista Michael O'Riordan. Él y otros compañeros formaron parte de la Columna Irlandesa Connolly, integrada en la XV Brigada. Pero no fueron los únicos que viajaron a España: el militar fascista Eoin O'Duffy y la Iglesia católica reclutaron a medio millar de camisas azules o blueshirts para apoyar al bando nacional. Lucharon poco y mal, y a mediados de 1937 fueron enviados de vuelta a casa.
Poco después del bombardeo de Guernica, tres mil ochocientos niños fueron evacuados del País Vasco y enviados a Inglaterra. Los acompañaron quince sacerdotes y doscientas profesoras y «señoritas». El Gobierno británico se había resistido hasta el último momento, pero cedió ante el Basque Children Committee con dos condiciones: el Estado no correría con los gastos, y los refugiados serían repatriados lo antes posible. Durante la guerra, cerca de treinta mil menores fueron enviados a Francia, Bélgica y la Unión Soviética. Durante los primeros meses, los «niños de Guernica» vivieron en un campo de refugiados construido al sur de Inglaterra y financiado principalmente por sindicatos obreros. Después fueron repartidos por varias ciudades y la Iglesia católica se hizo cargo de un millar de fieles. Bilbao cayó en junio. Al final de la guerra, la mayoría de los menores fueron devueltos a sus familias. Algunos mayores de dieciséis años decidieron quedarse, otros fueron adoptados tras la muerte o persecución de sus padres.
En julio, los republicanos lanzaron una ofensiva contra las líneas nacionales al oeste de Madrid. El objetivo era «empujarlas» lo más lejos posible de la capital —estaban a unos cuarenta kilómetros— y retrasar los planes de Franco en el frente del norte, obligándole a redirigir su atención hacia Brunete. Aunque el Ejército Popular ocupó esta localidad y Villanueva de la Cañada, en las tres semanas siguientes los sublevados recuperaron el terreno perdido y volvieron a mirar hacia el Cantábrico (Santander y Asturias serían capturados entre agosto y octubre). La batalla no fue decisiva para el curso de la guerra, pero la factura fue alta: unos treinta y siete mil muertos y heridos (diecisiete mil sublevados) y más de un centenar de aviones caídos (la inmensa mayoría republicanos). La superioridad aérea de los sublevados desesperaba a los brigadistas: «Si tuviésemos armas modernas y pudiésemos enfrentarnos a esos canallas en igualdad de condiciones, huirían tan rápido que necesitaríamos camiones para alcanzarles…», escribía el soldado galés Will Rees.
«La semana pasada estuve en un pequeño pueblo que los fascistas bombardearon cinco veces. Primero vinieron dos aviones de observación, dejaron una señal de humo y después aparecieron los bombarderos. Se acercan y parece que van directos hacia ti. Hay una horrible espera de tres o cuatro segundos y después parece que la tierra se abre y se disuelve en nubes de polvo, escombros y pedazos de cuerpos humanos. El ruido es absolutamente indescriptible […]», recordaba Tom Oldershaw, de Battersea. «Después empieza el trabajo de cavar para rescatar a los supervivientes y tratar de calmar a los pobres diablos cuya familia entera yace bajo un montón de escombros humeantes que unos minutos antes era una casa».
Brunete fue un desastre para las Brigadas Internacionales que participaron en la ofensiva. Solo mil de los dos mil quinientos hombres que formaban la número XV sobrevivieron; la mayoría de los caídos fueron británicos y norteamericanos. Algunos batallones desaparecieron o se integraron en otros. El comisario George Nathan murió durante un ataque aéreo. Cientos de negativos y fotografías de aquellos días aparecieron setenta años después en la famosa Maleta Mexicana, un archivo con cuatro mil quinientas imágenes de la guerra que «desapareció» del estudio de Robert Capa en 1939. La crónica visual de Brunete fue obra de su compañera Gerda Taro, atropellada accidentalmente por un tanque ruso el último día de la batalla.
Los fantasmas del Jarama volvieron a despertarse. Los roces entre los líderes militares y políticos del batallón y los meses de servicio que muchos voluntarios acarreaban a la espalda tensaron más la situación. Reclutar hombres cada vez era más difícil: «El romanticismo se ha ido y muchos conocen ahora el sufrimiento y las dificultades», reconocía en otoño el secretario general del Partido Comunista en Gran Bretaña. En septiembre, Indalecio Prieto, ministro de la Defensa Nacional, impulsó dos medidas: la «absorción» de las Brigadas dentro de la estructura del Ejército Republicano (dotándolas de una jerarquía clara y reduciendo la influencia comunista) y la aprobación del Estatuto Legal de los Voluntarios. El documento condenaba la deserción («los que voluntariamente se unan se comprometen a permanecer en las Brigadas hasta que termine la presente campaña») y establecía que los extranjeros que hubiesen servido durante más de un año «con un historial limpio y una conducta meritoria» podrían solicitar la nacionalidad española una vez terminado el conflicto.
También se impuso un cambio simbólico, el de los gestos (la obligación de saludar a los «superiores», por muy camaradas que fuesen, y hablarles de usted), pero a menudo no se cumplía. «Puedo decir que detesto todo lo relacionado con ser soldado. Odio la instrucción, hacer el saludo, llevar uniforme y disparar. Pero creo sinceramente que la ayuda que pueda prestar durante los próximos meses ayudará a acabar con el fascismo en España, y haciendo eso también evitaré que Inglaterra tenga que pasar por lo mismo», escribía Gilbert Taylor, un brigadista de Cardiff. Antes de llegar al frente leía las noticias del New Statesman y pensaba en la guerra en abstracto. «Ahora que estoy aquí, siento que es mi gente la que está siendo sacrificada».
Tras el verano, los combates se centraron en el frente de Aragón. Los británicos lucharon en Belchite (agosto) y Teruel (diciembre), pero la República no logró su objetivo, recuperar Zaragoza. Entre marzo y abril de 1938, la guerra se inclinó definitivamente hacia los nacionales. Franco lanzó una ofensiva para aislar Cataluña y dividir el territorio republicano en dos, lo que provocó una crisis en el Gobierno de Negrín y el fin de Indalecio Prieto como ministro de Defensa. El pueblo de Calaceite fue un lugar miserable para el batallón británico: de los seiscientos cincuenta hombres que lo componían, ciento cincuenta murieron o resultaron heridos y otros tantos fueron capturados. Uno de ellos fue James Rutherford, que ya había sido apresado en la batalla del Jarama, liberado en un intercambio con soldados italianos y repatriado. Él y sus compatriotas firmaron un acuerdo: si volvían a España serían ejecutados. Durante la identificación de los prisioneros, Pablo Merry del Val, hijo del embajador en Londres, reconoció al soldado escocés. Rutherford había cambiado su nombre por el de Jimmy Smalls y sus compañeros intentaron ayudarle, pero todo fue en vano. «Sabíamos que estaba en problemas. Tuvimos una discusión rápida… y decidimos que yo ocuparía el lugar de Jimmy en la cola para tomarnos las huellas dactilares. Todos cruzamos los dedos», explicaba Joe Norman. Varios soldados habían pasado ya después de Rutherford cuando Merry se dio la vuelta y dijo: «A ti te he visto antes». Fue fusilado en mayo.
Los nacionales organizaron «visitas guiadas» para mostrar a la prensa extranjera las condiciones de vida de los prisioneros británicos en Zaragoza. El valor propagandístico era doble: demostrar la superioridad del bando nacional y, a la vez, la «humanidad» con la que se trataba a los combatientes extranjeros. «Para demostrar la generosidad de los nacionales, los prisioneros recibieron una comida, incluida una manzana, justo antes de que llegasen los reporteros. Sin embargo […], les quitaron las manzanas en cuanto estos se fueron», recoge el historiador Richard Baxell en The Unlikely Warriors: The British in the Spanish Civil War and the Struggle Against Fascism (2012). El enviado del New York Times reprodujo la farsa en un artículo en el que aseguraba que «los extranjeros eran tratados exactamente igual que los prisioneros españoles». Antes de la visita, los responsables de la prisión había intentado forzar a los presos para que hiciesen el saludo fascista. No lo consiguieron, al menos aquella vez.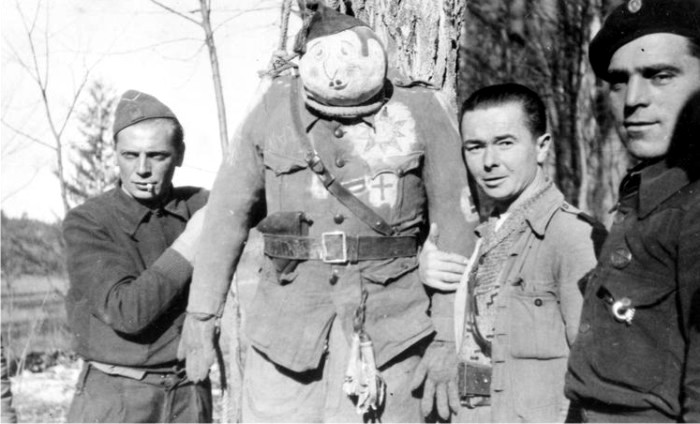 El batallón resurgió una última vez en julio de 1938, a tiempo para la batalla del Ebro (aunque tras la derrota en el frente de Aragón muchos españoles cubrieron los huecos que quedaban en las brigadas). En realidad, su participación fue muy limitada: aquel verano, Negrín aceptó retirar a los combatientes extranjeros con la ingenua esperanza de que Franco hiciera lo mismo. «El Gobierno español, en su deseo de contribuir con actos al apaciguamiento que todos deseamos, y resuelto a hacer desaparecer todo pretexto para que se pueda continuar dudando del carácter netamente nacional de la causa por la que se baten los Ejércitos de la República, acaba de decidir la retirada inmediata y completa de todos los combatientes no españoles que luchan en las filas gubernamentales», anunció en septiembre ante el Comité de No Intervención de la Sociedad de Naciones (Ginebra). Los últimos brigadistas abandonaron el frente unos días más tarde.
El 28 de octubre tuvo lugar un desfile de despedida en Barcelona y el 1 de noviembre Dolores Ibárruri pronunció su famoso Hasta pronto, hermanos: «Podéis marcharos orgullosos. Sois la historia, sois la leyenda, sois el ejemplo heroico de la solidaridad y de la universalidad de la democracia, frente al espíritu vil y acomodaticios de los que interpretan los principios democráticos mirando hacia las cajas de caudales o hacia las acciones industriales que quieren salvar de todo riesgo…»(1). Los gobiernos francés y británico bloquearon las repatriaciones hasta diciembre, cuando una multitud recibió a los trescientos cinco brigadistas que llegaron a Victoria Station. Miles de combatientes de otras nacionalidades —alemanes, italianos, polacos— tuvieron que buscar refugios lejos de sus países, principalmente en Francia. El conflicto acabó en abril y cinco meses más tarde estalló la Segunda Guerra Mundial. En 1940, Winston Churchill, el embajador británico Samuel Hoare y el banquero Juan March sacaron la billetera para que Franco se quedase al margen.
De los dos mil cuatrocientos británicos que lucharon en España, unos quinientos figuran en el Roll of Honour de los fallecidos (algo más del veinte por ciento). Pequeños memoriales salpicados por Gran Bretaña recuerdan su gesto. «Muchas gracias por la fotografía de la tumba de mi querido hijo. Espero que pronto llegue el día en que pueda visitar su lugar de descanso», escribía la madre de William McGuire después de que le informase de su muerte en Jarama. «Ese día llegará cuando sus camaradas barran a los fascistas asesinos fuera de España. Mi familia está contenta de saber que Willie y sus compañeros no serán olvidados». El Dependants Aid Committee, una organización de apoyo a las familias de los brigadistas muertos y heridos, recibió muchas cartas similares. «Me doy cuenta de que otras madres han perdido a sus hijos, de que soy otra madre en la larga lista de madres que han soportado valientemente el estrés de este tiempo angustioso…», escribía la madre de Kenneth Bradbury, nacido en Oldham y muerto en Teruel.
Uno de los que esquivó a la muerte fue el líder sindicalista Jack Jones, que resultó herido en la batalla del Ebro. En los años setenta fue la figura más importante del movimiento obrero británico. No fue a España para vivir una aventura, sino «porque sentía que estaba en el lado correcto, en el lado de la justicia» (Union Man. An autobiography, 1986). Jones falleció en abril de 2009, meses antes de que el Gobierno español cumpliese la promesa de Negrín y entregase el pasaporte español a los brigadistas supervivientes, ocho contando con él. Durante el acto de entrega en Londres, uno de sus compañeros, Sam Lesser, recordó que la Pasionaria les había dicho que volviesen a España cuando floreciese el olivo de la paz. «Hemos tardado un poco pero creo que hoy podemos decir: «Hemos llegado a casa, madre». En estos momentos de alegría pensamos en los que no han llegado, pero sobre todo en los que tienen como sudario la tierra de España y duermen para siempre bajo el sol y la sombra, las nubes, la lluvias y los olivos de esta queridísima España que será para siempre nuestra patria, igual que la tierra donde nacimos».
____________________________________________________________________________
(1) También empleó una frase —«la causa de España es la causa común de toda la humanidad avanzada y progresista»— que dos años antes había escrito Stalin en un telegrama enviado al Partido Comunista Español: «Los trabajadores de la Unión Soviética […] se dan cuenta de que liberar a España de la opresión de los reaccionarios fascistas no es un asunto privado de los españoles, sino la causa común de toda la humanidad avanzada y progresista».