Translation: Teresa Galarza
Shortcuts. On the shoulders of a country at war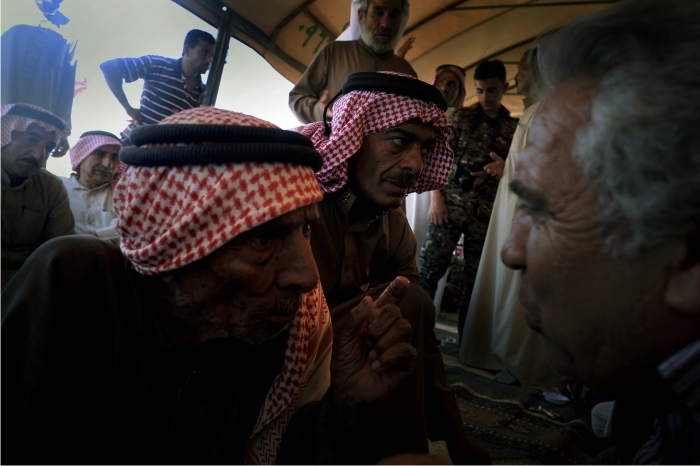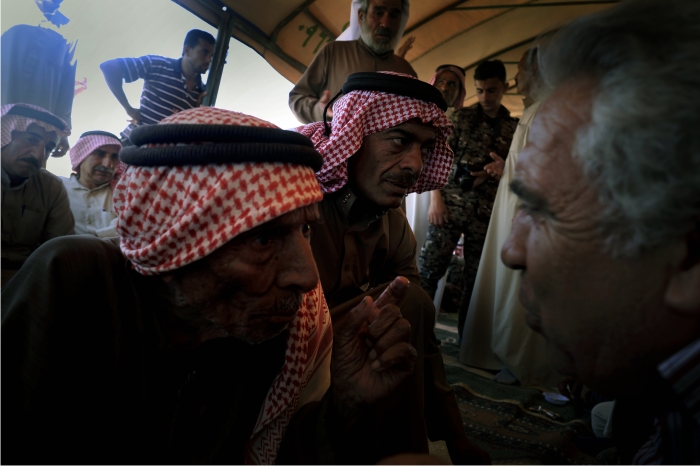 Some village in Raqqa. Clay houses cooking under the sun, a lot of sun, in the middle of nowhere. In Serran there are no sidewalks, no roads, no streets, no shops; just a donkey tied to a pole next to the remains of something that, one day, sheltered the monster, and the following day succumbed under an American bomb. If it were not for the power line, Serran might well be a village in southern Afghanistan.
But today is a special day. There are hundreds of guests under the tent that is used for weddings and funerals. Most of them are wearing a red turban and dishdasha — a traditional Arabic shirt that reaches to the ankles. They are Arabs from across the entire province of Raqqa. The Kurds are fewer but easily identifiable in their Turkish clothing from the bazaar, or the sober camouflage of the Units of Popular Protection.
There are many names of places like this, but Hasun Shahi knows he is the king of the party. The parish greets him with all the respect of this lost world; the old man –he's one hundred and five years old– breaks the ice right away. "I'm looking for a new wife," he says as loudly as he can, walking with his cane toward a twenty-year-old Kurdish woman in jeans. Respectful laughter: neither subdued nor strident.
The young woman is called Leyla, and works for the political apparatus of what is known as the "Northern Federal Region of Syria", a type of state based on the ideology of Abdullah Ocalan, the imprisoned leader of the PKK who — who would have thought it — has become the unwavering bet for the Americans. If not for Syria, at least against ISIS. They have driven to Serran to meet with the Arabs of other villages of Raqqa already freed of the monster. You have to win the hearts and minds – "hearts and minds," the Americans say – of those who until yesterday were inhabitants of the Caliphate, and who today return to live in an unnamed place.
After the speech, lamb is served on large round trays. The old man sits down to eat next to Leyla and Omar, his superior in the hierarchy. "The Kurds are all good but among my people, the Arabs, many have joined those ISIS dogs," says the sheik. He insists in that he feels ashamed.
During the meal we have a light conversation about common friendships, tribal ties, and a heavier one about ISIS. Everyone agrees that the monster must be vanquished as soon as possible.
Within fifteen minutes the trays are collected and the one hundred and five year-old-man gets up with surprising ease. Neither Kurds nor Arabs like after-dinner conversations.
Leyla has barely eaten anything. She does not like lamb, but she had to come.